"Morning, afternoon and all day sessions available"
The nursery is open on weekdays from 7:45am to 6:00pm with the exception of English Bank Holidays and a period of closure between Christmas and New Year.
Our sessions are:
Our daily fees are:
Mornings
7:45 am to 12:45 pm
£31.00
Afternoons
1:00 pm to 6:00 pm
£28.00
Full Day
7:45 am to 6:00 pm
£52.00
Full Time
(at Nursery 5 Full Days Per Week)
£49.50
All fees are inclusive of meals and refreshments and a minimum attendance of two sessions per week is required.
Fees are payable in advance and a non-refundable deposit is required at registration which is then credited to your final invoice. By signing the registration form you are agreeing to abide by the nursery's terms and conditions.
We offer a sibling discount of 5% which is subject to terms and conditions.
Holiday Discount
The nursery offers a 50% holiday discount each year for children up to the age of 3 years for the equivalent of two weeks calculated pro rata. Written notice of 6 weeks is required for the discount to be applied and then the relevant amount is then deducted from your monthly invoice.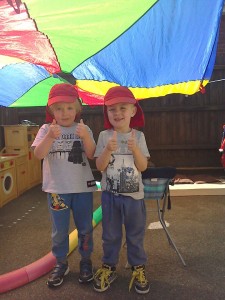 Once a child is in receipt of government funding or attends on a term time only contract, they are no longer eligible for the holiday discount.
Term Time
We are also able to offer term time only attendance for parents. This option means that there is no attendance and no charge made for the following periods –
2 weeks at Easter
6 weeks at Summer
1 week at Christmas
The dates are determined as per Bournemouth school term times and a minimum attendance of 3 full days a week or equivalent is required.
Referral Reward
Refer a friend or colleague to the nursery and you could receive £100 credit as a thank you. Please see our terms and conditions for details.
How Can I Get Help With My Childcare Costs?
Funding for two year olds
Depending on your personal circumstances, your child may be entitled to 2 year old funding. For more information please have a look at:
https://www.bournemouth.gov.uk/childreneducation/childcare/paying-for-childcare/early-education-funding-for-two-year-olds.aspx  to find out if you are eligible. If so you can apply online or call 01202 451451 for more information.
Some parents will also be issued with a reference number directly from Bournemouth Borough Council. This automatically confirms your eligibility to receive the 2 year old funding.
Funding for 3 and 4 year olds
All families with a 3 and 4 year old child are eligible for the universal funding offer of up to 15 hours a week term time or a total of 570 hours taken throughout the year. (A child becomes eligible for the funding the term after their 3rd birthday).
Tax-free Childcare and 30 hours funding
Tax-free childcare and 30 hours childcare are two separate government schemes, to help parents with the cost of childcare.
To qualify for either scheme, parents must be working and each earning at least £120 per week (on average) and not more than £100,000 per year.
Parents can use Tax-Free Childcare alongside the 15 and 30 hours funding but can't use it at the same time as they receive childcare vouchers, universal credit or tax credits.
Tax-free childcare
Parents are able to open a new childcare account and for every £8 you pay into your account, the government will pay in an £2. You are entitled to receive up to £2,000 government support per child per year towards your childcare costs. Payments to the nursery are then made directly from this account.
30 hours funding
The extended entitlement for 3 and 4 year olds will support parents to get back into work, or work more hours. If you are eligible, you can get an additional 570 hours funding a year, so 1140 hours in total either taken as 30 hours per week term time or stretched across the whole year.
Tax credits and universal credits for childcare
Depending on personal circumstances some families will qualify to receive either tax credits or universal credit to help with the cost of childcare.
Childcare vouchers
If your employer offers childcare vouchers or arranges your childcare, you can get up to £933 a year in tax and National Insurance savings.
The amount you can get in childcare vouchers depends on how much you earn and when you joined the scheme. You pay for your childcare before tax and National Insurance deductions are made. You can't use childcare vouchers at the same time as Tax-Free Childcare. Over time, Tax-Free Childcare will replace childcare vouchers and childcare arranged directly by your employer.
Childcare vouchers will remain open to new joiners until April 2018. Parents already using childcare vouchers can continue to do so after this date, as long as the employer continues to offer them.
Flexibility
We endeavour to offer parents the greatest amount of flexibility in the way funding is accessed. We are able to offer 15 hours or 30 hours a week term time over 38 weeks or stretched across 51 weeks. We also offer flexible session times (subject to availability) allowing you to access childcare that meets your individual needs.
If your child attends for more than the funded time or uses the nurseries additional services, supplementary costs will be applied and are dependent on the sessions attended, but will not exceed the nursery session fees. (A copy of our additional service charges is available on request).
Regretfully, due to life threatening allergies within the nursery, we are unable to accept children's food or drinks from home.
Applying for help with your childcare costs
Check your eligibility and apply online on the government's Childcare Choices website www.childcarechoices.gov.uk