Welcome to Redhill Day Nursery, Bournemouth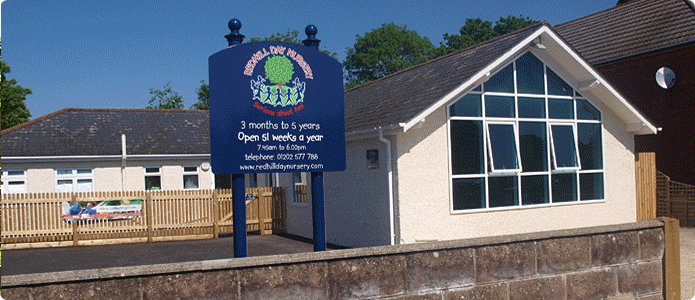 We are pleased to present this information on how our nursery is organised, and a taste of the beliefs and philosophy that underlie how we care for children.
"Our primary focus is to provide day care of the highest quality for both local families and those from a wider area…"
Becky Wilson, Nursery Manager
We hope the information is a useful introduction to our nursery and would be delighted to tell you more.
New for 2020!
Physical development is one of the prime areas of learning within the EYFS and we are constantly looking for new ways and ideas to support this. This year we have redeveloped the front and rear gardens and are delighted to show you pictures of the completed project.
The front garden has sand and water play, along with chalk boards for mark making.
The baby garden has specialist climbing equipment just for babies.
The rear garden has a brand new sandpit, climbing frame, the mud kitchen has been refurbished and the allotment dug over ready for planting.
The children are getting lots from the new space and we hope the addition of some key plants will encourage wildlife too.
Redhill Day Nursery Newsletter
View our Latest Newsletter : Redhill Dec Newsletter
Our first week back – June 2020
We could not have asked for a better first week back! The children were all eager and excited to come and see their friends and teachers who they have missed so much.
Here's just a quick glance at what we have been up to during our first week; the children have loved spending time outside in the garden and playground playing with the bikes and scooters and in the lovely warm weather we were able to get our sprinkler out which caused endless fun! Even the rain didn't stop us we just put our all-weather suits on and carried on playing.
We have explored lots of messy plays and been creative with our drawing and chalking. Thank you to everyone for the lovely comments and feedback we have had such a fantastic week.