"Home cooked nutritious, delicious and fresh meals every day"
We believe a good diet is essential for happy, well developed, healthy children therefore we provide 3 balanced and nutritional meals and snacks each day which will give your child the energy and nutrition they require to enjoy their time at nursery.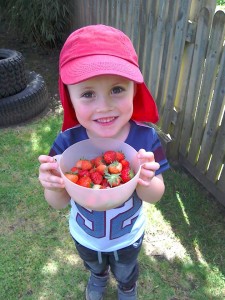 Our meals are well planned and home-made by our experienced chef. We use fresh fruit, vegetables, fish and meat all delivered to our door as well as seasonal fruit and vegetables which the children grow themselves. Our menus run on a 4 week rotation and are on display in the nursery and on our website.
We are aware that some children have specific dietary or religious requirements and following discussion with the nursery manager, can be catered for. We provide a nutritious breakfast (up to 8.30am), fruit and milk or water as a mid-morning snack followed by a two course home cooked lunch and an afternoon tea. Younger babies will be given milk and weaning foods you have provided, at times to suit their individual needs.
Mealtimes are important social occasions in the nursery and we support the children to be independent and encourage them to experience different flavours. Staff enjoy lunchtimes with the children eating together and encouraging the development of social skills.
We support mothers who wish to breast feed and offer a quiet and comfortable place for feeding. We are able to store breast milk while your child is at nursery.